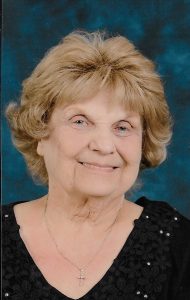 Carolyn J. Gabbard 83, of Aurora, Indiana, passed away Wednesday October 17, 2018 in Cincinnati, Ohio.
She was born November 17, 1934 in Lawrenceburg, Indiana, daughter of the late Anthony F. Tschaenn and Irene (Garrison) Tschaenn .
She worked in bottling for Seagrams Distillery, retiring after over 40 years of service.
Carolyn attended the Alliance Church in Aurora. She enjoyed making ceramics, shopping and she was an avid reader. Carolyn loved spending time with family, especially her grandchildren and great grandchildren.
Carolyn is survived by her sons, Steve (Donna) Gabbard of Aurora, IN, Terry "Turk" (late Debbie) Gabbard of Rising Sun, IN; siblings, Mary F. "Fran" Gabbard of Lawrenceburg, IN, Donna (Alza) Bowling of Ft. Wayne, IN, Sondra Lou (late Lonnie) Booth of Greendale, IN, Frank (Nasha) Tschaenn of Portland, OR, Rick (Wilma) Tschaenn of Milan, IN, Charlie (Donna) Tschaenn of West Harrison, IN, Christina Watkins of Rising Sun, IN, Cathy (Dave) Enzweiler of Dilllsboro, IN, Barbara "Bobbie" (Ron) Ester of Aurora, IN, Johnny (Wanda) McElfresh of West Harrison, IN; grandchildren, Travis (Tammy) Gabbard, Derrick Gabbard, Shawn Gabbard, Dawn Gabbard Beard, Jennifer Gabbard; and great-grandchildren, Payton Beard, Brady Gabbard, Harper Turner.
She was preceded in death by her parents, husband, Charles F. Gabbard, and sister, Geraldine "Gerry" Ballard.
Friends will be received Saturday, October 20, 2018, 12:00 pm – 2:00 pm at the Rullman Hunger Funeral Home, 219 Mechanic St., Aurora, Indiana.
Services will be held at 2:00 pm at the funeral home.
Interment will follow in the River View Cemetery, Aurora, Indiana.
Contributions may be made to the Alzheimer's Association. If unable to attend services, please call the funeral home office at (812) 926-1450 and we will notify the family of your donation with a card.
Visit: www.rullmans.com