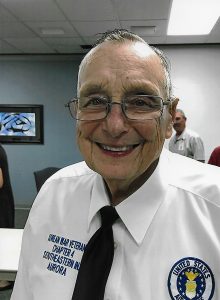 Thomas H. "Tommy" Largent 86, of Aurora, Indiana, passed away Wednesday, October 10, 2018 in Cincinnati, Ohio.
He was born November 29, 1931 in Aurora, Indiana, son of the late John E. Largent and Inez (Cole) Largent.
He served his country as a member of the United States Air Force during the Korean Conflict. He was the Chaplain and Finance Officer for the Korea War Veterans for many years. Tommy along with his brother J.D. Largent were honored as 'Hometown Heroes" for their military service at the Cincinnati Reds game on July 24, 2018.
He worked as an electrician for Monsanto retiring after over 37 years of service. He was also an owner/operator of his own business, Largent Electric. Tommy was a long time member of the First Baptist Church, where He also served as a Deacon. In his early years Tommy and his family would go camping almost every week and still camped through this past Labor Day. He was a photographer, made wood picture frames, enjoyed leather tooling and farming. Tommy did an extensive genealogy, including the Cole family, going all the way back to the Mayflower. Tommy was a man of faith. He was a good and faithful servant of God, living out his faith by treating others as He wanted to be treated. Tommy was a people person and left a legacy of love and dignity to all that he came into contact with.
Tommy is survived by his loving spouse of 67 years, Peggy (Webb) Largent; daughters, Lee Ann (Kenny) Shelton of Aurora, IN, Sharon Banschbach (Dave Craven) of Patriot, IN, Julie Robinson of Milan, IN, Patty (Dave) Terrill of Aurora, IN, Becky Largent of Aurora, IN, Marie (Ken "Cricket") Jackson of Aurora, IN; brother, J. D. (Donna) Largent of Aurora, IN; grandchildren, Megan (Devon) Marine, Craig (Jamie) Shelton, Reid (Morgan) Shelton, Kristie (Todd) Connley, Paige (Jonny) Deters, Brittany Banschbach, Kara Banschbach, Stacy (Rob) Lloyd, Erick (Erin) Robinson, Alyse Knapp, Darcy (Adam) Korner, Eli (Jamie) Terrill, Hannah (Cody) Hobart, Jesse Terrill, Trey (Mallory) Jackson, Tommy Jackson (Kyla Rowland), and Kelsie Jackson; 30 great grandchildren; many nieces, nephews and cousins. He was preceded in death by parents, John and Inez Largent; great granddaughters, Zoey Lee Banschbach and Mattie Lynn Terrill.
Friends will be received Monday, October 15, 2018, 4:00 pm – 8:00 pm at the First Baptist Church of Aurora, 6060 Blair Road, Aurora, Indiana.
Services will be held Tuesday at 11:00 am with Pastor Bill Secrest officiating.
Interment will follow in the River View Cemetery, Aurora, Indiana. Military graveside services will be conducted by members of local Veterans Service Organizations.
Contributions may be made to the First Baptist Church of Aurora or Korea War Veterans. If unable to attend services, please call the funeral home office at (812) 926-1450 and we will notify the family of your donation with a card.
Visit: www.rullmans.com