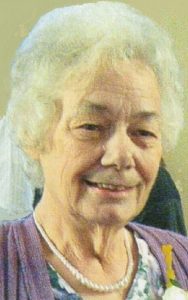 Bonita L. Knecht, of Brookville, was born on June 25, 1946 in Batesville, a daughter to Marshall "Jack" and Rita Kunkel Deutsch.  She married Ernest Knecht and together they had six children.  Bonita helped at the Senior Center and Meals on Wheels, and babysat many children around Brookville.  She was a member of St Michael and St. Peter's Catholic Churches as well as the St. Peter's Ladies Society.  Bonita loved traveling and playing cards, especially at the Senior Center.  On Tuesday, October 9, 2018 at the age of 72, she passed away at Margaret Mary Health in Batesville.
Those surviving who will honor Bonita's memory include her husband Ernest Knecht of Highland Center; daughters, Jennie L. Knecht of Highland Center, Julie L. (Andy) Meier of St. Peters, Jessie L. (Roger) Angelo of Highland Center; sons, Jamie L. (Kelly) Knecht of Southgate, Jeremy L. Knecht of Highland Center, and Joe L. Knecht of Brookville.  She is also survived by 4 grandchildren, Brendon, Stacy and Rachel Angelo and Braxton Knecht; siblings, Becky Teece of Brookville, John (Louise) Deutsch of Rushville, Marsha Deutsch of Franklin, OH, Melissa (Chris) Knoller of Hudgins, VA, Jeff (Betty) Deutsch of Middletown, OH; a sister-in-law, Janet Deutsch of Brookville, and several nieces and nephews.  Besides her parents, she was preceded in death by one brother, Don Deutsch.
Friends may visit with the family on Friday, October 12, 2018 from 9 until 11 a.m. at Cook Rosenberger Funeral Home, 929 Main Street, Brookville.  Father Vincent Lampert will officiate a Mass of Christian burial at 11:30 a.m. at St. Michael Catholic Church.  Burial will follow in the church cemetery.
Memorial contributions can be directed to the American Cancer Society or to a charity of choice. To sign the online guestbook please visit www.cookrosenberger.com.  The staff of Cook Rosenberger Funeral Home is honored to care for the family of Bonita Knecht.