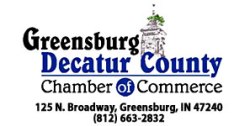 Greensburg, In. — For the first time since 2008, the Greensburg/Decatur County Chamber of Commerce is offering a Leadership development program, Lead 2.019.
This "next version" of the local leadership development promises to ignite valuable opportunities with more than simple classroom learning, a fact recognized in the LEAD acronym:
Learn
Experience
Apply
Demonstrate
The program is built on interaction and experiential learning that will prepare class members for outcomes with immediate and long-lasting impact. By tailoring the program to the community and class we have ensured the participants find it to be centered in each of the following:
Learner Outcomes
Knowledge Base Expansion
Assessment and Evaluation Review
Community Impact
Participation in this valuable program, comprising over 40 hours of instructional time, promises to improve networks through its team-oriented and project-based approach which will advance interaction with the community and its leadership. The sessions are certain to provide a return on investment that will last for many years.
Lead 2.019 Benefits for Attendees:
Transferable, leadership and project management skills
Personal Growth
Increased self awareness
Comprehensive understanding of community needs and opportunities
Enhanced ability to navigate community structure
Increased interaction and networking with community leaders
Emerging skills and relationships