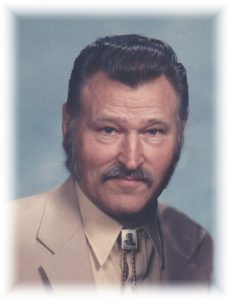 Irvin Louis Jansing, age 88 of St. Mary's, Indiana, passed away on September 19, 2018 at his home.  The son of Richard and Bertha (nee: Kruthaupt) Jansing was born on June 1, 1930 in St. Mary's.
The US Army veteran served during Korea achieving the rank of Sergeant.  He married Marian Margaret Meer on December 1, 1951.  Irvin is a member of St. Mary's of the Rock Catholic Church and the Brookville VFW.
Irvin loved being outdoors, whether it was fishing, camping or off road riding.  He liked going to watch Jeep racing events and spending time on his riding mower out in the yard.  Irvin also enjoyed cooking, reading and making homemade wine.
He is survived by his son, Stephen (Rhonda) Jansing of Deputy, IN; daughters, Marcia Bedel, Darlene (John) Goldsmith and Gayle (Doug) Bedel all of Batesville, IN; ten grandchildren and fifteen great-grandchildren; along with his siblings Marc Jansing, Clarence Jansing, Marilyn Smith and Clarissa Renier.
In addition to his parents, he was preceded in death by his wife Marian and his brothers Elmer, Richard and Cletus Jansing.
Visitation will be Monday, September 24, 2018 from 9-10am followed by 10am Mass of Christian Burial all at St. Mary's of the Rock Catholic Church in St. Mary's, IN.  Burial will follow in the St. Mary's Church Cemetery with military grave side rites.
Memorials may be given to the St. Mary's Preservation Society.
Meyers Funeral Home is assisting the family.