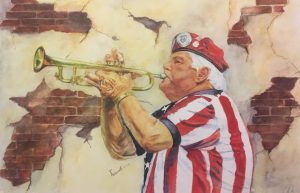 Nelson E. Elliott 80, of Aurora, Indiana, passed away Saturday September 15, 2018 in Lawrenceburg, Indiana.
He was born May 28, 1938 in Cincinnati, OH, son of the late Aaron Elliott and Miriam (Hann) Elliott.
Nelson graduated from Lawrenceburg High in 1956, He inherited the "Hi-Liters" Dance and Show Band in 1955, attended Hanover College from 1956-1960, where he was a member of Lambda Chi Alpha Fraternity. Nelson was employed at numerous community schools, such as; Dillsboro Public School (Band and Choir Director), Batesville High School (Band and Choir Director, & Assistant Football Coach), Moores Hill Public Schools (Principal of Grades K – 12).
From 1977 – 1984, he was operating partner of Ewing's Produce & Nursery, Aurora and Green Thumb Garden Center, Dillsboro. He received Indiana Auctioneers License, and started "Nelson Elliott Auction Team". He was on the On- Air and sales staff of WSCH Radio Station. He was a real Estate Broker for Town & Country and started the Atlas Land Service Appraisal Company in 1991. Nelson enjoyed his time as a T.V.Host on Media 6 Cable Television "Hoosier Kaleidoscope" for 8 years. He was a member of the Board of Directors Southeastern Indiana Musicians Hall of Fame, and was inducted as a member of the Hall of Fame in 2004) Nelson was on the Board of Southeastern Indiana Board of Realtors.
Nelson was the Past Master of Ceremonies/Announcer for: Versailles Pumpkin Show, Aurora Farmers Fair, Milan 4th of July Parade, Aurora Firecracker Festival, Aurora Thunder On The River Regatta, Lawrenceburg Fall Festival, Lawrenceburg Music on the River (10 years), HiddenValley Lake Memorial Day Services, Dillsboro Homecoming, Dearborn 4-H and Community Fairs.
Nelson celebrated 52 years of Bugling Military Funerals (1955-2007). He played taps for Military Funerals, Memorial Day, Veterans Day programs, 225th Anniversary Celebration of the Revolution of Lochry Massacre at Aurora Cemetery. In recognition of his Patriotism and faithful tribute to the veterans, Nelson was awarded Honorary Lifetime member of Korean War Veterans of America (1999), Aurora American Legion Post #209, Aurora Veterans of Foreign Wars #5312, Vietnam Veterans of America #71, Dillsboro American Legion, Post #292, Moores Hill American Legion, Post #231,
Nelson's contributions to, not only the veterans, but to everyone in the community has left a great impact. His gifts and talents blessed many and he will be greatly missed.
Nelson is survived by his loving spouse of 58 years Marcia Elliott (Ewing), Son, Paul Elliott (Teresa White) of Aurora, IN; Daughter, Melody (Jeff) Schornick of Batesville, IN; Sister, Marilyn Sue Perry; grandchildren, Jake Schornick, Elizabeth Schornick, Jackie Schornick, Aaron (Alex) Elliott, and Nathan Elliott; great granddaughter, Alaina Schornick; aunt, Lois Elliott Parker of Greendale, IN. He was preceded in death by Father, Aaron Elliott, Mother, Miriam Hann Elliott, Brother, Richard Elliott.
Friends will be received Wednesday, September 19, 2018, 4:00 pm – 8:00 pm at Carnegie Hall, 14687 Main Street, Moores Hill, Indiana. Funeral services will be Thursday at 11:00 am at Rullman Hunger Funeral Home, 219 Mechanic Street, Aurora, IN. Interment will follow in the River View Cemetery, Aurora, Indiana. Military graveside services will be conducted by members of local Veterans Service Organizations.
Contributions may be made to Carnegie Hall or Local Color Guard Squads. If unable to attend services, please call the funeral home office at (812) 926-1450 and we will notify the family of your donation with a card.
Visit: www.rullmans.com