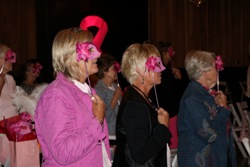 Batesville, In. — Are you looking for a girls' night out filled with laughter, learning and inspiration? The 12th annual Think Pink breast cancer awareness event is scheduled for 6:00 p.m. on Tuesday, Oct. 23 at Walhill Farm, located just outside of Batesville. Sponsored by Margaret Mary Health, Think Pink offers area women the chance to pamper themselves while gaining valuable information about the detection and prevention of breast cancer.
Intended to educate and inspire women of all ages, Think Pink offers appetizers, door prizes and a keynote presentation by speaker and life success coach Stephanie (Stenger) Jones. A Ripley County native and South Ripley graduate, Jones is the author of the bestselling book The Giving Challenge. Since graduating Taylor University, Jones has lived a crazy life from a private investigator to police officer to a senior manager in a Fortune 100 company. Her passions are giving, reading, travel, friends and family.
Prior to Think Pink, the community is invited to an open house at Margaret Mary's Cancer Center from 4-6 p.m. At this event, attendees will have the chance to meet the cancer team, tour the beautiful facility and view recently installed cancer-treatment technology. For patients in need of radiation therapy, the Varian TrueBeam linear accelerator provides the best treatment available on the market today. It is designed to deliver the lowest dose of radiation possible to surrounding healthy tissue while allowing for better, more accurate treatment of tumors. The cancer team will be available at the open house to provide tours, explain services and answer questions. Light refreshments will be served and giveaways will be provided to all who attend. Margaret Mary's Cancer Center is located at 24 Six Pine Ranch Road in Batesville.
Tickets for Think Pink are $20/person. All money raised benefits the MMH Foundation's cancer fund. Registration is available online by visiting MMH's Events section at www.mmhealth.org or by calling Meg Applegate at (812) 933-5257.