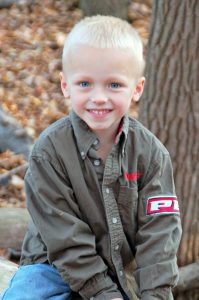 Travis Paul Wenning, 6, passed away on September 12, 2018 at home with his family by his side.
He was born on November 1, 2011 in Greensburg to Nick and Julie (Holzer) Wenning.
Travis fought as hard as he could and had the whole community "Pulling" for him but he ultimately lost his battle with cancer.  He was in the 1st grade at St. Mary's Catholic School and was beloved by the entire school and staff.  He loved helping out on the farm and wanted to be a worker.  He enjoyed fishing, hunting, camping, and loved tractors.  He really looked up to his big sister and he tried really hard to keep his little brother in line.  Travis always had a smile on his face and he will be missed dearly.
He is survived by his parents; Nick and Julie Wenning, his sister and brother; Josie and Henry Wenning, grandparents; Carolyn Hill, Roger and Mary Beth Wenning, great grandmother; Norma Beatty, and several aunts, uncles, great aunts and uncles, and cousins.
Travis was preceded in death by his grandparents; C. John Holzer, Jr., Dennis Hill, and great grandparents; Rosemary and Edward Wenning, Mildred and Walter Moeller, Charles Beatty, Charles and Joan Holzer, and Don and Carol Hill.
A rosary will start at 1 pm on Sunday, September 16 at St. Mary's Catholic Church followed by visitation until 6 pm.
A funeral mass will be held at St. Mary's Catholic Church on Monday, September 17 at 10 am with Rev. John Meyer and Rev. Bill Ehalt officiating.
Burial will follow at St. Maurice Catholic Cemetery.
In lieu of flowers, donations can be made to Riley Children's Hospital or to the Make-A-Wish Foundation.
Online condolences can be made at www.popfuneralhome.com