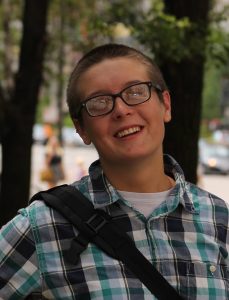 Morgan Beth Gentry 23, of Aurora, IN, passed away Friday August 10, 2018.
She was born November 27, 1994 in Cincinnati, OH, daughter of Angela Beth Clark and the late Clinton Todd Gentry.
Morgan earned two Associate Degrees from Vincennes University.  One in Construction Technology and one in Business Management.  Morgan was a proud member of, and advocate for the LGBT+ Community. Morgan loved to work with her hands and especially enjoyed woodworking. She also enjoyed Kayaking. She was strong willed, compassionate, hard working, and fierce. Morgan had a big heart. She loved her family and she will be missed by all.
Morgan is survived by her mother, Angi Clark of Aurora, IN; siblings, Chelsea Beth Gentry Conover (Jaka Gentry Conover) of Kingsland, GA, Lukas Todd Gentry (Elizabeth Wessel) of Aurora, IN; maternal grandparents, Kenneth and Geneva Calender and Sheila Clark (late, "Dickie" ) all of Aurora, IN.
She was preceded in death by father, Clinton Todd Gentry, maternal grandfather, Richard "Dickie" Clark, paternal grandparents, Clint & Betty Gentry. Morgan is also survived by many loving aunts, uncles and cousins.
Friends will be received Tuesday, August 14, 2018, 4:00 pm – 6:30 pm at the Vineyard Community Church, 304 Fourth Street, Aurora , Indiana.
Services will be held also at the Church, Tuesday at 6:30 pm with Pastor David Hall officiating.
Contributions may be made to the Funeral Home to defray expenses. If unable to attend services, please call the funeral home office at (812) 926-1450 and we will notify the family of your donation with a card.
Visit: www.rullmans.com