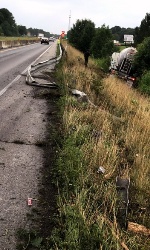 Batesville, In. — The Indiana Department of Transportation will close westbound Interstate 74 this Friday night between the Sunman/Penntown Exit 156 and the Batesville Exit 149.  This includes the westbound entrance ramp at State Road 101.
Starting at 9 p.m., all westbound I-74 traffic at Exit 156/S.R. 101 will be routed to westbound S.R. 46—returning to I-74 at Batesville/S.R. 229.  INDOT officials expect restrictions to be lifted by 1 a.m.
Eastbound I-74 traffic and exit access at Batesville will be unaffected.
Replacement of a section of seriously damaged guardrail necessitates closure of the section of single-lane westbound I-74.  Westbound traffic within the ongoing construction zone between Batesville and New Point/Exit 143 will not be impacted.
Milestone is Indiana's prime contractor for the $61 million pavement replacement/added travel lanes Next Level project rebuilding 12.8 miles of I-74 in Decatur, Franklin and Ripley Counties.  All traffic has been shifted to single lanes in each direction on the north side of the roadway while the south side is being constructed.