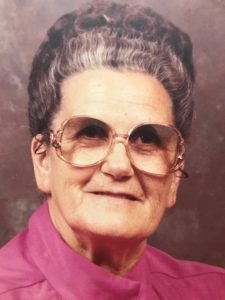 Addie Mae (Seals) Johnson, at the age of 95 went home to be with the Lord on August 9, 2018.  She was born in Estill County Kentucky, a daughter to George and Patsy (Barnes) Tipton on September 11, 1922.  Addie retired from Philco Ford after 17 years of service.
Those surviving who will cherish Addie's memories are her children, Allen "Butch" and Alice of Liberty; Virgia (Reynolds) and Ray Effing of Batesville; Gary L. and Janet of Brookville, and Denny and Maureen of Cedar Grove.
She was preceded in death by her husband, Levi Seals, who passed away on September 20, 1960; two sons, Paul Edward in 1943 and David in 1944; one great-grandchild, Triston Seals, as well as two brothers, Ernest "Bud" Tipton of Carlisle, OH and Herbert Tipton of Fairborn, OH.
Addie had 9 grandchildren, Arron (Bobbi Jo) Reynolds of Peppertown, Daron (Kelly) Reynolds of Laramie, WY, David (Kris) Reynolds of Hamburg, Brian Seals of Liberty, Gina (Randy Schuck) Robinson of Liberty, Mike (Lea) Seals of Brookville, Justin Seals of Brookville, Holly (Ryan) Meyer of Harrison, OH, and Andrew Seals of Cedar Grove.  Also surviving are 11 great-grandchildren, Patrick Seals, Jessica Seals, David Kyle Reynolds, Kathleen Reynolds, Megan Schuck, Travis Schuck, Kennedy K. Seals, Jack Seals, Colin Seals, Naomi Seals and Alina Seals.
Addie loved her flowers and was winner of the monthly garden spot twice.  She also loved decorating for Christmas.  Addie loved her children, grandkids and great-grandkids, and she was loved by all them.
Friends may visit with the family on Tuesday, August 14, 2018 from 9 until 11 a.m. at Cook Rosenberger Funeral Home, 929 Main Street Brookville.  Funeral services will begin at 11 a.m. at the funeral home and burial will follow in Maple Grove Cemetery.
As much as Addie loved her flowers, the family has requested that in lieu of flowers, memorials be given to the Brookville VFW in honor of Addie, who was a member of the ladies auxiliary for many years.  To sign the online guestbook please visit www.cookrosenberger.com.  The staff of Cook Rosenberger Funeral Home is honored to care for the family of Addie Mae Seals Johnson.