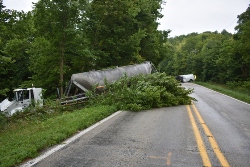 New Trenton, In. — Indiana State police say a Cincinnati man died in a crash Wednesday morning on U.S. 52 just west of New Trenton.
Around 5:30 a.m. Jerry D. Esslinger, 54, of Hartford City, was driving a semi-truck and trailer eastbound on U.S. 52. While rounding a corner the trailer swung into the path of a car driven by Gerald P. Hendy, 73, of Cincinnati. The trailer struck the vehicle driven by Hendy in the westbound lane of U.S. 52.
Hendy was pronounced dead at the scene. Esslinger was not injured.
The highway was closed until about noon.
Toxicology tests are pending. The investigation is ongoing.