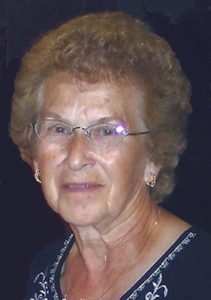 Gayle A. Schaefer, of Sunman, was born on August 22, 1935 in Sunman, a daughter to Paul E. Sr., and Frieda E. Schantz Hornberger.  She married Ralph F. Schaefer on September 17, 1956 at St. Paul Catholic Church in New Alsace and together they raised five daughters.  Gayle worked at Western-Southern Life in the office until Ralph and she started their family. She later went back to work at Weber's Greenhouse and McPhersons.  She attended St. Jacob's UCC-Blue Creek, and was widely known for her beautiful flowers and prosperous garden.  Gayle's favorite hobby however was shopping, especially for shoes!  She loved spending time with her family, and going to craft shows.  Christmas was her favorite holiday and she always had the perfect tree.  On Tuesday, July 10, 2018 at the age of 82, Gayle passed away at Christ Hospital in Cincinnati.
Those surviving who will cherish Gayle's memory include her children, Kristy (John) Miller of Brookville, Lisa (Ken) Mosmeier of Sunman, Kim (David) Craig of Lawrenceburg, Shari (Jeff) Sterwerf of Sunman, and Kelley (Randy) Fuernstein of Brookville; grandchildren, Jonathan Mosmeier, Joshua Craig, Brittany Craig, Aaron Sterwerf, Kaitlin Sterwerf, and Colton Fuernstein; siblings, Eileen Gunter of Batesville, Lester (Audrey) Hornberger of Sunman, Virginia Richter of Sunman, Paul Jr. (Debbie) Hornberger of Brookville, Wanda (Harold) Vogt of Batesville, and one sister-in-law, Patsy Hornberger of Sunman.  Besides her parents, she was preceded in death by her husband, Ralph F. Schaefer; a brother and sister-in-law, Jim and Evelyn Hornberger; brother, Dale Hornberger; and two brothers-in-law, Dale Gunter and David Richter.
Friends may visit with the family on Friday, July 13, 2018 from 4 until 8 p.m. at Cook Rosenberger Funeral Home, 107 Vine Street, Sunman.  Pastor Lynne Busch will officiate the funeral service on Saturday at St. Jacobs UCC-Blue Creek at 10 a.m. and burial will follow in the church cemetery.
Memorial contributions can be directed to St. Jacob's Cemetery, the Sunman Life Squad or to the Sunman Volunteer Fire Department.  To sign the online guestbook please visit www.cookrosenberger.com.  The staff of Cook Rosenberger is honored to serve the family of Gayle Schaefer.