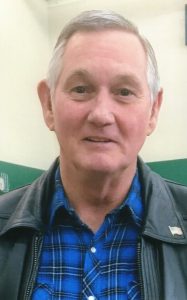 Joseph "Joe" Robinson, of Laurel, was born on January 21, 1951 in Corbin, Kentucky the son of Lenzy and Edna Cox Robinson.  He served his country with the United States Marines, and then worked and retired from Sperry Rubber after 29 years of service.  Joe enjoyed fishing and spending time with his family, especially his grandchildren.  He loved to supervise all of the family activities – usually from his lawn chair.  On Wednesday, June 13, 2018, at the age of 67, he passed away at his residence.
Those surviving who will cherish Joe's memory include his children; sons, Joseph (Laura) Robinson and Jason Robinson, both of Laurel; daughters, Nancy (Kenny) Peters of Laurel, Jennifer (Steve) Thompson of Lake View, and Becky Thompson (Troy Wolf) of Connersville.  He is also survived by one sister, Carol Noble of Loveland, OH; 11 grandchildren, Richinda (Christopher) Banks, Hank McNally (fiancé T.J. Watkins), Christopher McNally, Isaiah Peters, Heather (Eric) Aldworth, Stephanie Thompson, Kiley Robinson, Emily Robinson, Justin Robinson, Kristen Peters, and Andrew Peters, and 10 great-grandchildren.  Joe was preceded in death by his parents.
Friends may visit with the family on Monday, June 18, 2018 from 11 a.m. until 1 p.m. at Cook Rosenberger Funeral Home, 929 Main Street, Brookville.  Funeral services will be held 1 p.m. at the funeral home.  Burial with full military honors provided by the Brookville American Legion Bernard Hurst Post #77 will follow in Laurel North Cemetery.
Memorial contributions can be directed to the Brookville American Legion Bernard Hurst Post #77 or to the Brookville VFW Wilbur Dennison Post #2014.  To sign the online guestbook please visit www.cookrosenberger.com.  Cook Rosenberger Funeral Home is honored to care for the family of Joe Robinson.