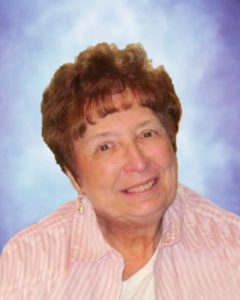 Lois Marlene Northcutt, 81, of Dillsboro, Indiana, passed away Thursday May 24, 2018 in Lawrenceburg, Indiana.
She was born December 3, 1936 in Cincinnati, Ohio, daughter of the late Herman George Hammann and Virginia (Pickleheimer) Hammann.
A longtime member of the Beecher Presbyterian Church Lois served the church faithfully as secretary for several years. She was an active member of the Eastern Star and loved giving of her time & talents as Mother Adviser for the Lawrenceburg Assembly Rainbow Girls. A gifted artist, Lois loved to paint and teach arts and crafts at the After Chores Craft Store. She was an avid bird watcher, but what was most precious to her was the time spent with her family and friends.
She will be greatly missed by all who knew and loved her.
Lois is survived by her children, Karen Derflinger (Eric) of Milford, OH, Robert Northcutt Jr. (Margo) of North Bend, OH, Larry Northcutt (Danielle) of East Enterprise, IN, Amy Dodd (John) of White Oak, OH; Sister, Jeanne Sternberg of East Enterprise, IN; grandchildren, Sarah Beggs (Stacey Bareswilts) , Bree Hardwick (Adam), Miranda Watson (Dwight) , Rachel Northcutt, Robert G. Northcutt, Jake Haas (Ally), Matthew Northcutt, Moriah Northcutt, Lydia Northcutt, Lillian Northcutt, James Northcutt; Taneesha Parker and great-grandchildren, Alec Lee, Tyus Watson, Kaya Watson.
She was preceded in death by her parents, and her loving husband of 49 years, Robert Northcutt Sr.
Friends will be received Thursday, May 31, 2018, 12:00 pm – 2:00 pm at the Beecher Presbyterian Church, 229 Short Street, Lawrenceburg, Indiana.
Services will be held at 2:00 pm, with Pastor Robert Northcutt Jr. officiating.
Interment will follow in the Concord Cemetery, Patriot, Indiana.
Memorials may be made to the Beecher Presbyterian Church. If unable to attend services, please call the funeral home office at (812) 926-1450 and we will notify the family of your donation with a card.
Visit: www.rullmans.com