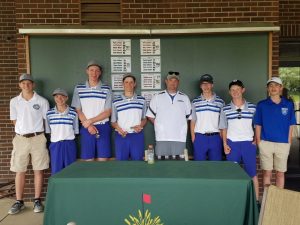 The Batesville Bulldogs won The EIAC Golf Championship.
Team Scores:
Batesville 354
South Dearborn 355
Connersville 362
Greensburg 375
East Central 389
Franklin County 403*
Rushville 403
Lawrenceburg 479
*5th Score Tie Breaker
Individual Results (All EIAC Team)
Drew Miller (South Dearborn) 74 (MVP)
Ross Harmeyer (Batesville) 80
Ryan Roark (South Dearborn) 84*
Tristian Lamppert (Batesville) 84
Nate Weis (East Central) 87*
Dalton Lee (Connersville) 87
Adam Kelly (Connersville) 89*
Kyle Leising (East Central) 89
Kyle Sellers (Greensburg) 90
Ryan Scott (Connersville) 92
Devin Winkler (Greensburg) 93
Jonah Graham (Connersville) 94*
Boys Golf results for Tuesday's 5/18/18 match vs. Rising Sun and Southwestern. Match was played at The Links Course at Rising Star (Front 9).
Team Scores:
Batesville 158
Southwestern 165
Rising Sun 205
Match Medalist:
Ross Harmeyer-Batesville (+2) 36
Next Match:
Thursday 5/17/18 vs. Columbus East at Otter Creek
Record:
29-8
Courtesy of Bulldogs Coach Ben Siefert.