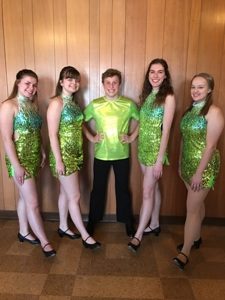 Batesville, In. — The Southeastern Indiana Dance, Inc. is pleased to announce its spring concert is scheduled for Sunday, May 6, 2018, at 2:00 pm at the East Central High School Performing Arts Center. The concert is free, and everyone is invited.
The theme for this concert is "Dancing on the Beach." Lydia Woodward, Director, stated, "The music choices include Caribbean Queen, Codfish Ball, Montego Bay, and Washed Ashore, to name a few. As long as winter has lasted this year, it's nice to think about a warmer place!"
The concert includes ballet, modern, musical theater, jazz, hip-hop, and tap dances. Additionally, ten solos, one duet, and one trio will be presented. The choreography is by Woodward, Brittany Nicholas, and Toni Miles.
Students, from Batesville, Oldenburg, Hamburg, Sunman, Greensburg, Brookville, St. Leon, Milan, Bright, Dillsboro, Brookville, Versailles, Westport, Metamora, West Harrison, Rushville, Osgood, Guilford, Napoleon, Laurel, IN and Vitoria-Gasteiz, Spain, range in age from 4 – 18. They include Aidan Abrams, Cole Abrams, Charlotte Anderson, Abbi Barker, Teagan Barker, Aidan Belew, Emerson Belew, Macey Benjamin, Clara Black, Lila Blessing, Allison Bohman, Breanna Bohman, Joy Brewer, Taylan Burkhart, Riley Callahan, Sophie Cassidy, Reanna Collins, Madelyn Comparone, Lucy Dole, Whitney Drew, Layla Evans, Haley Feiss, Alice Fromer, Norah Fromer, Maggie Geis, Nate Geis, Katryna Gellenbeck, Eden Goniea, Leah Goodin, Ashley Gowdy, Laine Greathouse, Mikaela Gutzwiller, Charlotte Harmeyer, Mary Harmeyer, Gabbie Haviland, Mia Hofer, Adriana Hoff, Sandra Huy, Lily Ison, Annabelle John, Macy Kinker, Maya Kress, Elena Kuisel, Stella Lecher, Addisyn Lemmel, Addison Luers, Gena Mack, Samantha Mathews, Elliana McLain, Brooklyn Miller, Cate Neuman, Abigail Obermeyer, Lila Obermeyer, June Pagaldai, Maggie Peters, Bethany Purvis, Paris Raab, Tess Rennekamp, Anya Richey, Madison Rohls, Kendal Ryan, Lydia Sarringhaus, Solara Scheel, Tatum Schuler, Amelia Spielman, Faith Steenhoek, Hope Steenhoek, Sara Swinney, Abe Trossman, Brooklyn Tuttle, London Tuttle, Presley Vanderpool, Sophia Vijverberg, Lauren Voss, Leigh Walmsley, Bella Watson,   Sophie Wesseler, Ana White, Cortney Widener, Gabrielle Williams, Cecilia Wolfe, Josie Wolfe, and Alivia Yorn.