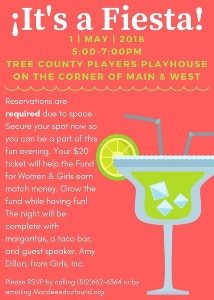 Greensburg, In. — The Decatur County Community Foundations Women's Committee will host a Cinco De Mayo celebration May 5 at 5p.m. in the Tree County Players Playhouse at the corner of Main and West Streets.
The event includes margaritas, tacos, and guest speaker, Amy Dillon, she'll be talking about the future of Girls, Inc. in Decatur County.
Reservations are $20 and space is limited so RSVP early by calling 812-662-6364 or email mandee@dccfound.org.