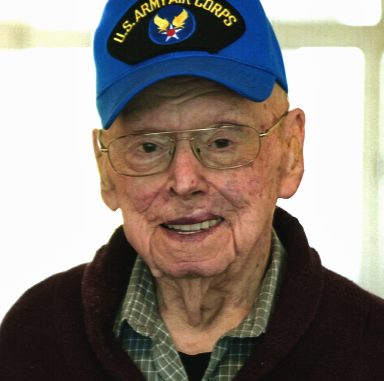 Robert J. Kuntz, age 90, of Oak Forest, Indiana died Saturday, April 21, 2018 at the Waters of Batesville in Batesville, Indiana.
Born May 10, 1927 in Oak Forest, he was the son of the late George E. & Anna (Amberger) Kuntz. He was a U.S. Army Air Corps Veteran of World War II. On September 25, 1954 he was united in marriage to Cleora Dierckman, and she survives.
He was retired, having worked for many years at the former Philco Ford in Connersville, and later owned and operated the former Village Bar in Brookville for over 22 years.
Bob was a member of St. Mary of the Rock Catholic Church, the Bernard Hurst Post #77 of the American Legion, and a life member of the Wilber Dennison Post #2014 of the Veterans of Foreign Wars.
Besides Cleora, his loving wife of over 63 years, survivors include two daughters, Sharon Bolser of West Harrison, Indiana and Patty Watkins of Oak Forest; a son, Dale Kuntz of Oak Forest, Indiana; five grandchildren, 12 great-grandchildren, as well as several nieces & nephews.
In addition to his parents, he was preceded in death by one sister, Roselyn Wessel; four brothers, Lloyd Kuntz, Clifford Kuntz, Arnold Kuntz and Eugene "Jack" Kuntz.
Family & friends may visit from 4 until 7:00 p.m. on Wednesday, April 25, 2018 at Phillips & Meyers Funeral Home, 1025 Franklin Avenue, Brookville, where the Holy Rosary will be recited at 6:30 P.M..
Rev. Carl Langenderfer OFM, will officiate the Mass of Christian Burial on Thursday, April 26, 2018, 10:30 A.M. at St. Mary of the Rock Catholic Church, 17440 St. Mary's Road, Batesville, Indiana. Burial with full military graveside honors by the Bernard Hurst Post #77 of the American Legion will follow in St. Cecelia of Rome Catholic Cemetery in Oak Forest.
Memorial contributions may be directed to St. Cecelia Cemetery Fund or the St. Mary's Preservation Fund. Phillips & Meyers Funeral Home is honored to serve the Kuntz family, to sign the online guest book or send personal condolences please visit www.phillipsandmeyers.com .