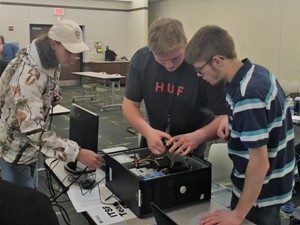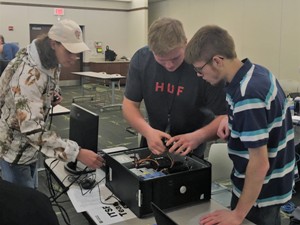 Indianapolis, In. — Three Ivy Tech Community College students enrolled in the Information Technology Helpdesk pathway at the College's Batesville Site recently competed in the Ivy Tech Statewide IT challenge.
Ryan Laloge, Henry Lipinksi, and Ian Williamson participated in the second annual Statewide IT Challenge April 5-6 at the Ivy Tech Downtown Indianapolis Campus. Laloge, a Batesville High School junior, and Lipinksi, a BHS senior, are dual enrolled at Ivy Tech. Williamson is a traditional Ivy Tech student.
The event hosted more than 300 Ivy Tech students, including those in high school dual credit and dual enrollment programs and 150 instructors from Ivy Tech, Ball State University, and Vincennes University. It also hosted 40 businesses and 16 IT Academy partnerships.
During the Statewide IT Challenge, students from across the state competed in eight competitions: network infrastructure, IT support, cybersecurity/information assurance, server administration, database management, software development, computer science and visual communications.
"The Statewide IT Challenge provided a great opportunity for our students to test their skills and what they have learned in our IT helpdesk pathway at Ivy Tech Batesville," said Joe Kennedy, Ivy Tech assistant professor of informatics. "It provided valuable hands-on experience in a fast-paced, competitive environment that our students really enjoyed."
The Ivy Tech Batesville Site offers a pathway to careers in information technology helpdesk support, one of the highest demand, well-paying careers in Indiana. The IT support field has more than 300 jobs open annually, according to EMSI, a labor market advisory group.
This pathway program teaches students the knowledge and skills needed to build and maintain computing systems and their technology. It is designed to prepare students for a professional career in the computer technology field. Students in the program walk through tearing down and rebuilding computers, work with customer support software, and go through project management training.
The Batesville Site program is open to dual enrollment students at area high schools, traditional college students, and adult learners. Students who complete the 23-credit hour pathway earn an IT Helpdesk certificate from Ivy Tech and are prepared to take professional certification exams. There is the option to pursue a technical certificate and an associate degree online with local student support provided or face-to-face through an Ivy Tech partner campus.
"Through our Information Technology Helpdesk pathway, Ivy Tech Batesville is aligning its academic programming with the needs of our communities and area employers," said Dr. Rebecca Rahschulte, Director of Ivy Tech Batesville. "We partner with our area high schools to offer students dual enrollment opportunities to start preparing for a career before they earn their high school diploma. This program is also a good fit for traditional students and adults who want to advance their careers."