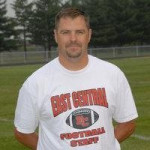 The Justin Roden Era at East Central has apparently come to an end. The Football Coach has formally accepted the Head Varsity Football Coach at Noblesville High School, north of Indianapolis, pending board approval tomorrow night.
During his five years at The Trojans Varsity Football Head Coach, Coach Roden posted a 47-20 record including winning The 4A State Championship last year, The 4A State Runner-up in 2015, and a Semi-State appearance in 2016. Two of his players, Connor Lynch and Jayden Williamson, won The Eskew Mental Attitude Award during The Trojans State Final appearances.
Coach Roden thanks all for the coverage of East Central Trojan Football during his tenure and have always appreciated your support.
The Sports Crew at WRBI wishes Coach Justin the absolute best in his future endeavors as well as thanking him for taking the time to do interviews and sending us EC Trojan Football information. A first class act indeed!