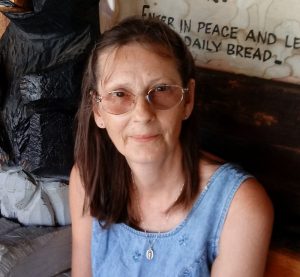 Nancy Diane Turner 57, of Dillsboro, Indiana, formerly of Moores Hill and Milan, passed away Sunday April 15, 2018 in Dillsboro, Indiana.
She was born June 27, 1960 in Lawrenceburg, IN, daughter of the late Layne and Magdalene Ison Brashears
She worked as a Steel worker for Hillrom, for several years. She attended Hope Baptist Church. Diane was an avid reader, enjoyed cooking, gardening, and visiting friends. She was an animal lover especially her dog Bailey. Diane was a very caring person, even in her illness, she was more concerned about everyone around her than she was about herself. She was a woman of few words, but made a great impact on all who came into contact with her. She made friends instantly and will be sadly missed.
Surviving are her loving companion of 8 years D.L. Ransom of Dillsboro, IN; children, Zach Turner of Dillsboro, IN, Jake Turner of Aurora, IN., Lydia Turner, of Dillsboro, IN; and grandson, Bryson Shelton.
She was preceded in death by her parents and brothers, David & Darrell Brashears.
Friends will be received Friday, April 20, 2018, 5:00 pm – 8:00 pm at the Rullman Hunger Funeral Home, 219 Mechanic Street, Aurora, Indiana.
Services will be held Saturday, 11:00 am at the Funeral Home, with Pastor Tom Holt officiating.
Interment will follow in the Oakdale Cemetery, Dillsboro, Indiana.
Contributions may be made to the Dillsboro Life Squad or Hope Baptist Church. If unable to attend services, please call the funeral home office at (812) 926-1450 and we will notify the family of your donation with a card.
Visit: www.rullmans.com