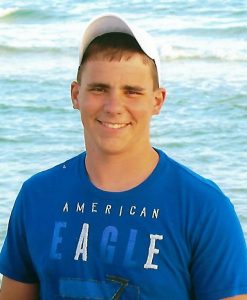 Jacob Scott Davidson, age 26 of Batesville, Indiana passed away on Thursday, April 12, 2018. The son of Scott and Sharon (nee: Kelley) Davidson was born December 25, 1991 in Batesville.
The 2010 Batesville High School graduate worked as a press operator for GECOM in Greensburg. Jacob loved to spend time outdoors, especially going hunting and fishing with his dad. He enjoyed going to the Brookville Sale Barn with his Grandpa Lenzie. He liked messing around with his brothers whether it was playing ball or swimming and was always involved in the backyard pick up game of whatever sport was in season.
He will be dearly missed by his parents, Scott and Sharon; son Bradley Davidson; brothers Curtis and Derek Davidson; maternal grandfather Glen Kelley and his wife Jackie; paternal grandmother Jackie Davidson; along with his aunts, Kim (Bill) Vest, Amy (Mark) Johnson, Becky (Jason) McKittrick and Rhonda (Jeff) McKittrick; and uncle, Mike (Beth) Davidson plus many cousins.
He was preceded in death by his maternal grandmother, Janet Kelley and paternal grandfather, Lenzie Davidson.
Visitation will be Tuesday, April 17, 2018 from 4-8PM at Meyers Funeral Home in Batesville. Funeral Services will be 11:00AM on Wednesday at St. John United Church of Christ in Batesville. Rev. Dennis & Linda Frische-Mouri officiating. Burial to follow in the St. John UCC Cemetery, Huntersville.
In lieu of flowers, memorials may be given to the family to to set up an educational fund for Bradley. Online condolences at www.meyersfuneralhomes.com.