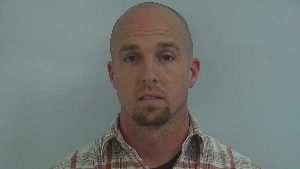 Versailles, In. —(Updated 3/26/18 12:32 p.m.) Indiana State Police say they arrested former Jac-Cen-Del assistant Girls Basketball coach after a two-month investigation into allegations of misconduct with children Sunday at 12:30 p.m.
Police say the investigation began in February of 2018 after being notified by Jac-Cen-Del officials. During the investigation, police uncovered evidence of an inappropriate relationship between Chad Pindell, 36, of Napoleon, and a 17-year-old female player on the team. Pindell was removed from his volunteer position after the school reported the incident to police.
Police say there were messages sent via social media, including photographs, and at some point, during the relationship there was sexual contact.
Pindell has been charged with child seduction- a level 5 felony and dissemination of harmful material to a minor-a level 5 felony.
The investigation was completed by the Indiana State Police, Ripley County Prosecutor's Office and the Department of Children Services.
************** *********************
Former Jac-Cen-Del educator and girls basketball volunteer Chad Pindell has been arrested for child seduction and disseminating harmful material. The Napoleon resident is also a Republican county council member from District 3. Pindell was booked into the Ripley County Jail on Sunday.
Unconfirmed reports indicate Pindell may have been involved with a member of the Jac-Cen-Del basketball team.
In an email dated February 28 of 2018 superintendent Tim Taylor told WRBI News Mr. Pindell "resigned as a teacher in July, prior to the school year and also recently resigned as a volunteer coach with the basketball team."