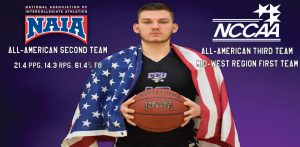 Congratulations to Blake Walsman on being named All-American by both the NAIA and the NCCAA.
The Batesville native finished the season averaging 21.4 ppg, 14.3 rpg, while shooting 61.4% from the floor. Walsman led the nation in rebounding & double-doubles (25) during the regular season, finished 11th in field goal percentage, and 17th in scoring per game.
Blake is one of two players in NAIA DII to grab 12 offensive rebounds in a game this season. He is also one of three players to grab 19 defensive rebounds in a game this season. Walsman was able to also grab 20+ rebounds in 7 games this season.
During his Junior campaign, Blake Walsman broke the CCU record for Career Rebounds (904) since joining NAIA and moved into second place All-Time in scoring for CCU (1,541) since joining NAIA.
Blake Walsman 's 2017-18 Season Accolades
NAIA All-American (Second Team), NCCAA All-American (Third Team), River States Conference Player of the Year Runner-Up, First Team All-Conference (RSC), and First Team All-Mid-West Region (NCCAA).