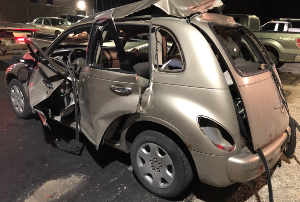 Nashville, In. — Police in Nashville, Indiana are investigating a blast that rocked the Green Valley Motor Lodge on State Road 46 Friday night.
The first report came into dispatch around 10 p.m. and shortly after police found a 2004 Chrysler PT Crusier with windows blown out, door damage and nearby truck also damaged by the blast. Investigators say the blast was caused by prpane tanks left in the back of the vehicle.
Police have determined the explosion was not accidental and the owner of the vehicle fled after the explosion. The suspect was later taken to a local hospital for treatment.