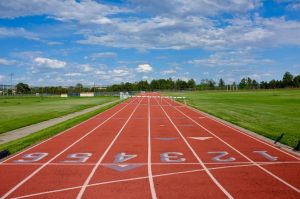 A handful of Lady Pirates competed at DePauw University Friday night for a final chance to qualify for the Hoosier State Relays.Two Greensburg Individuals and two relay teams are in the top 24 in their events amongst all the 1A, 2A, and 3A schools and will be competing next Saturday, March 24 at HSR. Lily Grimes is ranked second in her signature shot put event while Brenner Hanna is ranked 22nd in the 3200, an event she ran for the first time in her career on Friday. The 3200m relay team of Cameron Jones, Cathy Newhart, Julia Ankney and Brenner Hanna are seeded 12th out of all the small schools and the 4000 Distance Medley Relay team of Cathy Newhart, Elizabeth Pavy, Cameron Jones and Brenner Hanna are ranked 9th.
Friday night was an unusually late and long indoor event with over 1200 participants. It was reportedly slated to have less than 900 competitors. With so many athletes, the original format of the meet was changed and opening heights were raised in order to speed up the event. All the Lady Pirates gained valuable experience competing at such a large venue against multiple teams from all over the state. The evening began with Lily Grimes placing 8th in shot with 37'5.5. Hilary Ernstes ran the 60m for the first time in her career placing 58th out of 83 sprinters with a time of 9.19. Freshman Brenner Hanna also tried a new event and placed 12th out of 41 runners in the 3200 11:52.12. The 4 x 800 relay team of Cami Jones, Emma Wilmer, Hilary Ernstes & Brenner Hanna placed 12th Place with 11:12.44. During the race, freshman Emma Wilmer set a new PR in her 800 split by shedding almost 13 seconds! Another freshman, Shannon Pake, with an indoor PR of 4'6 in high jump, did not clear the opening height of 4'8 but had great form during her attempts.
Courtesy of Pirates Coach Katina Tekulve.