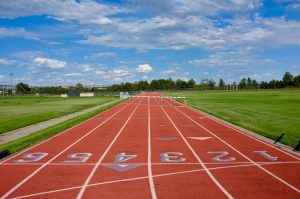 A handful of Lady Pirate track athletes competed at two different indoor locations over the weekend. Lily Grimes was the only Greensburg girl to travel to UIndy for the Whiteland HSR Qualifier on Friday night. She placed 3rd in shot with an indoor PR of 39'5.5″. She is currently ranked 2nd among all the small school throwers in the state of Indiana and will be competing at the Hoosier State Relays on Saturday March 24.
On Saturday morning a small group of Lady Pirates traveled to Purdue University to compete in the McCutcheon HSR Qualifier. The day started with freshman Elizabeth Pavy placing 25th in the 55m dash out of 55 girls with a time of 8.26. Freshman Shannon Pake tied for 7th in High Jump with a 4'6 clearance. Cami Jones, Cathy Newhart, Julia Ankney, and Brenner Hanna of the 3200m Relay team placed 3rd with 10:36.84. A similar group of Newhart, Pavy, Jones, and Hanna also did well in the 4000 Distance Medley Relay by placing 3rd in 13:38.32.
Another small group of track athletes will be traveling to DePauw this Friday to try to improve on their marks and qualify for HSR. Updated small school rankings can be found at http://iatccc.org/hsr/  
Courtesy of Pirates Coach Katina Tekulve.