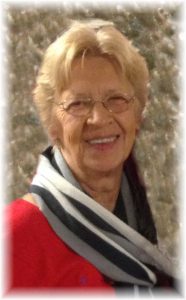 Carol Shackelford nee Flannery, born July 26, 1941 in Lecher County, KY, daughter of Edna and William Flannery, dedicated wife to James Shackelford, passed away on Monday, March 12, 2018.  The Batesville resident was 76 years old.
Carol was an avid lover of animals, particularly her beloved dog, Newman. A well-known decorator, real estate connoisseur, and friend to many, Carol was best known as the great matriarch to her very large family.  She always loved having her family and friends stop over for a cup of coffee and good conversation.
Loving mother to Edward (Donna) Burdett, Rick (Sherry) Burdett and Star Shaw. Along with step sons, Clyde, Dennis, Jerry and Wayne Shackelford. Grandmother to Tabby Stoeppel, Taylor and Talyn Shaw, Chad and Ben Burdett, 8 step-grandchildren and 13 great grandchildren. Carol also leaves behind five sisters, Mae (Ed) Baldrick, Helen (Steve) Carder, Rhonda (Jude) Belter, Joan (Dan) Schornick, Terry (Paul) Messerschmidt and five brothers, Virgil (Holly), Bill (Ginger), Jake (Nancy), Don (Teri) and Jim (Kathie) Flannery, as well as, many nieces and nephews.
Visitation will be Friday, March 16, 2018 from 10am -12pm, immediately followed by funeral services at 12:00 noon, all at Meyers Funeral Home, Batesville.  Pastor Clyde Shackelford officiating.  Burial will be in St. Paul Cemetery, Sunman, IN.
Memorials may be given to Newman's Dog Fund or Phi Beta Psi Sorority in their support of local charities and cancer research, by bringing or mailing to the funeral home.
Online condolences at www.meyersfuneralhomes.com.