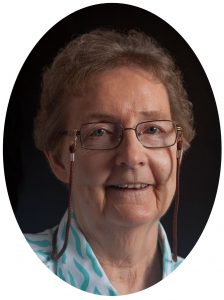 Sr. Tecla Jaehnen, age 80 of the Srs. of St. Francis in Oldenburg, died Sunday, March 11, 2018 at the convent.  Born June 14, 1937 in Cincinnati, Ohio, she is the daughter of Helen (Nee: Markowski) and Alphonse Jaehnen.  She was the second of four children and only daughter.
She began school at St. Augustine and after her family moved to the St. Bernard area of Cincinnati, finished her schooling at St. Clements and Our Lady of Angels High School with the Franciscan Sisters.  She'd been asked in grade school if she ever thought of pursuing a religious calling and following her graduation from high school, she and three friends joined the Franciscan community in February of 1955.
Sr. Tecla would go on to earn her teaching degree at Marian College and a Master's degree in Chemistry from Xavier University.  She would teach at schools in Indiana, Missouri and Ohio for the next 25 years.  Sr. Tecla fondly remembers her time spent teaching at Our Lady of Angels, where she lived across the street from her parents.  It allowed her to assist her parents in their later years and be with her father following the death of her mother.
While she enjoyed teaching and being close to her family, she had always enjoyed photography, so in 1980 she sought permission from the Convent to leave teaching and study photography.  After studying at the Ohio Institute of Photography, she would spend the next 20 years as a photojournalist.
The convent had recently created a Communication Office which provided her career a starting point.  She would go on to open her studio, "P.R. Photos by Tecla" at Good Shepherd Church in Cincinnati.  In addition to being the audio-visual specialist at the parish, she also did freelance work as a photographer for the Archdiocese of Cincinnati, the Archdiocese of Covington, Kentucky and the convent in addition to working as a darkroom technician and consultant for AccuPhoto film lab.  In 1997 she was diagnosed with Parkinson's disease.  By 2001 it became too physically demanding to haul her equipment and with the Parkinson's, to steady the camera.  She retired to the Motherhouse in 2002.
She is survived by her brother Paul Jaehnen of Oklahoma as well as nieces and cousins.  In addition to her parents, she is also preceded in death by brothers Vincent and Victor Jaehnen.  Visitation is Thursday, March 15th, from 1 – 3 p.m. Srs. of St. Francis Chapel.  Funeral services follow at 3 p.m. with Rev. Neri Greskoviak O.F.M. officiating and burial in the convent cemetery.  Memorials may be made to the Srs. of St. Francis, P.O. Box 100, Oldenburg, Indiana, 47036 (www.OldenburgFranciscans.org).  Weigel Funeral Home, Batesville, Indiana, is in charge of arrangements.