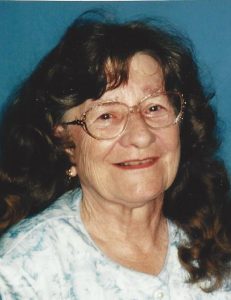 Myrtie "Edna" Taylor, age 86 of Osgood passed away early Saturday, March 10, 2018.  She was born on February 11, 1932, the daughter of the late Louie and Birtie (Davis) Rich in Adair County, Kentucky.  She and her brothers and sisters grew up on the family farm where she was taught early on the importance of hard work, love and the word of God.  These traits lived with her throughout her life.
She met Millard (Buddy) Taylor and they were married on June 12, 1952.  They started their life together living first in Delaware, but in 1973, the construction of the highway took their home and they moved to Osgood.  They were blessed with 3 boys and she provided a loving home for them.  
Edna was a lady of extreme faith and enjoyed sharing it with others.  Some of her favorite things included riding her 3 wheel electric bike to Manderley Nursing Home and reading from her Bible.  Edna was quite an inspiration to many family and friends.  She had attended numerous churches around town but considered Osgood United Methodist Church her home base. She was a proud survivor of Leukemia in 2009.  
Edna is survived by sons, Jerry of Osgood and Michael and wife Lorie Taylor of Holton; grandchildren Rodney, Michael, Denver, Sabrina, and Kyle; great grand children Michael and Jasmine.  She is also survived by her brothers, Kenneth, Hubert, and Willard Rich all of Shelbyville, In, Floyd and Donnie Rich of Columbia, Ky, and sisters Mable Long, Dora "Maggie" Gentry, Dorthy Hoosier and Flossie Martin all of Columbia, Ky.  She was preceded in death by her parents, husband, Millard, son Denver, and brother, Robert. 
Visitation will be held on Tuesday, March 13, 2018, from 4:00-7:00 pm. at Neal's Funeral Home in Osgood.  Funeral services will be held on Wednesday March 14, 2018, at 10:00 am at the Osgood United Methodist Church, with doors opening at 9:00 am.  Memorials may be given to the Osgood United Methodist Church in care of the funeral home.