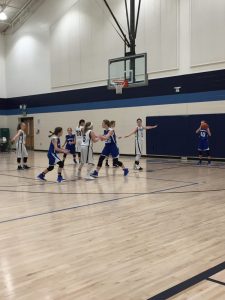 The 7th Grade Lady Bulldogs fought hard last night in the second round of the SEI tournament but came up short against the Sunman Dearborn Trojans 35-26.  It was a balanced scoring attack from the Bulldogs with Ashlee Cornn leading the way with 7 points, followed by Timbre Davies (6 points), Makayla Granger (5 points), Emma Weiler (4 points), Megan Meyer (2 points), and Ava Hanson (2 points).   The loss ends an impressive 2018 season for the Bulldogs who finished with a 13-4 record.  Both coaches and players would like to thank everyone who came out to support us this season.
Courtesy of Bulldogs Coach Chris Weiler.
The 8th Grade Lady Bulldogs were defeated in the second round of the Southeastern Indiana Tournament by Sunman Dearborn 37-23 last evening.  Even though the final deficit  was 14 points the game was much closer than that.  Made free throws late in the game by the Lady Trojans were the difference and stretched the final score to 14. The Lady Bulldogs were led by Carly Pride with 9 points.  Other scorers were  Ashley Nobbe and Brianna Wells each scoring 5, and Calley Kaiser added 4.  The Lady Bulldogs finished the season with a record of 12 wins and 5 loses.
The Lady Trojans were led by Katie Johnson and Avery Daniels each with 10.  Other scorers for the Lady Trojans were Hailey May with 7, Hope Fox and Makenzie Vignale each scored 4, and Olivia Knuevan added 2.  The Lady Trojans advance to the championship game Thursday night at St. Louis.
Courtesy of Bulldogs Coach Jack Smith.