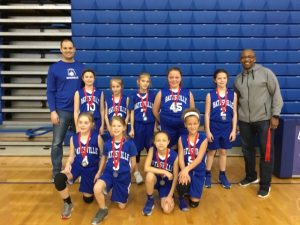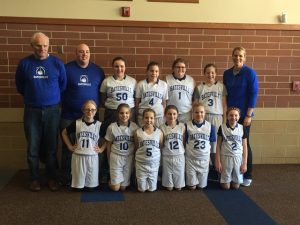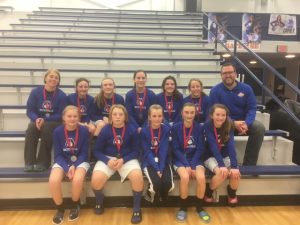 The Batesville 3rd, 5th and 6th grade Girls Basketball travel teams represented our community well this past season. The 3rd and 5th grade teams both competed in the Indy Girls Hoops League State Championship.  All of our teams are sponsored by the Batesville Girls Basketball Association, Inc.
The 3rd grade team (18-5) capped off a fantastic season where they finished runner up in the state to a very talented Plainfield team, led by Hanna Menser, the daughter of former Bulldog Michael Menser and coached by Menser himself.  The Batesville team was coached by Leon Smith and assisted by Kevin Campbell and JB Showalter.  The Lady Bulldogs finished the regular season ranked 3rd of 46 teams.  They also were champions of the Batesville Holiday Invitational Tournament in December and participated in the Lawrenceburg Basketball League for the 4th graders.
The 5th grade Lady Bulldogs (12-7) finished their season as a State Semifinalist. they had a regular season record of 6-4, won the Batesville Holiday Tournament (4-0) and went 2-3 in the IGHL State Tournament.  In the state tourney, they competed against, Carmel, Brownsburg, Pendleton Heights and Mooresville. The Lady Bulldogs were coached by Abby Kirschner Gesell and assisted by Arnie Kirschner and Rob King. See the team picture below.
The 6th grade Girls Basketball travel team finished a promising season with a final combined record of 12-5. Season highlights included a second place finish in both the Inaugural Batesville Holiday Tournament as well as the IGHL divisional season tournament.  The 6th grade coach was Amber Lecher assisted by Andy Saner, team picture is attached.
Courtesy of  Bulldogs Coach Andy Saner.