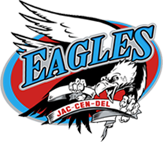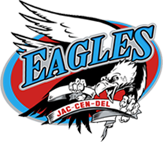 The JCD Jr. High Girls were back in action Monday night.
The 7th Grade stared out sluggish, but came out in the 3rd quarter ready to play. At the half the score was JCD 2 & Shawe 6. Some great defense saw them ahead 14-8 at the end of the 3rd. They ended up winning 22-12. Scoring for the Eagles were Richter & Harmeyer 6, Strunk & Veerkamp 4, & Jones 2.
The 8th Grade came out fighting with a quick 12-2 lead in the first. At the half they saw a 19-3 lead. They continued to work together and came away with a win 42-9. Scoring for the Eagles were Williams 18, Newhart 6, Cullen 5, Sparks 4, C. Simon 3, & Wilhoit, Fullmer, & Rider each with 2.
They will face Rising Sun at home on Wednesday. Come out and support our Lady Eagles.
Courtesy of Eagles Coach Lisa Horn.