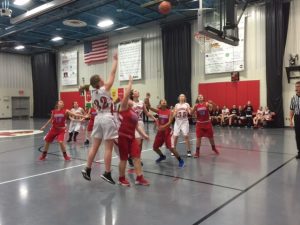 The St. Louis 5th Grade Girls Basketball team took to the floor Monday night against St. Lawrence at home winning 23-2.
The team had an impressive effort and continued to improve, especially in sharing the ball.  They improved their record to 4-4.
Scoring for the Cardinals were Isabel Raab with 2, Kenzie Maple & Lucy Abplanalp each contributed 4 points,  and Veronica King had 13 points.
Courtesy of Cardinals Coach Charlie Raab.
The St Louis Girls 6th Grade basketball team hosted the visiting St Lawrence Panthers Monday night and won 36-5.
Balanced scoring was the key as points were put up by Ava Owens, Izzy Price, Kate Weber, Rhea Miller, Claire Saner, Lilly Schebler and Sadie Wachsmann. Strong defensive pressure by the Cardinals kept the Panthers from scoring many points.
The Lady Cardinals travel to Laurel Tuesday night for their next game.
Courtesy of Cardinals Coach Randy Streator.