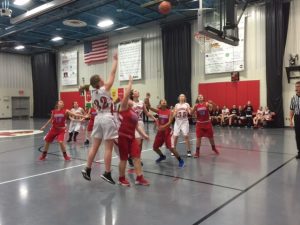 The 7th Grade Lady Bulldogs outlasted the South Ripley Raiders 26-21 to improve to 7-2 on the season and 4-0 at home.
The Bulldogs did not have their best showing of the year, but they were able to prevail in a sloppy game at BMS gymnasium.  Leading the way on defense was Emma Weiler, who played locked down defense all night forcing multiple turnovers.  On the offensive side of the floor Ava Hanson led all scorers with 8 points, followed by Timbre Davies (4 points), Emma Weiler (4 points), Ella Wilhelm (4 points) Ashlee Cornn (3 points), Makayla Granger (3 points), and Jadyn Harrington (2 points).
The Lady Bulldogs travel to Aurora on Thursday night for a rematch with South Dearborn.  Good luck girls and bring home a win!
Courtesy of Bulldogs Coach Chris Weiler.
The BMS 8th grade Lady Bulldogs upped their record to 7-2 for the season last night with a come from behind win over the South Ripley Lady Raiders.
The Lady Bulldogs used a 3 and a half minute spurt in the 4th quarter to overcome the deficient. Carley Pride and Ashley Nobbe hit big free throws in the 4th quarter to help seal the victory. Carley Kaiser lead the Lady Bulldogs with 10 points. Other scorers were Ashley Nobbe with 8, Carly Pride and Breanna Wells each added 4, and Gabby Elston had 2. Sarah Ripperger did not score but played great defense that led to many turnovers.
The Lady Bulldogs will travel to South Dearborn to play the Lady Squires on Thursday night.
The Lady Raiders were led in scoring by Rachel Meyer with 10. Other scoring for the Lady Raiders were Ellie Waldron with 6, Renee Tunny scored 3, and Sarah Meyer and Natasha Shinkle each adding 2.
Courtesy of Bulldogs Coach Jack Smith.