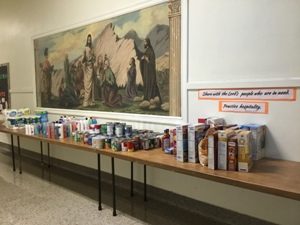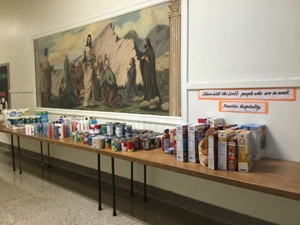 Batesville, In. — "Share with the Lord's people who are in need. Practice hospitality",  Romans 12:13- This is a lesson that is taught every day at St. Louis Catholic School in Batesville.
The students of St. Louis School celebrated Catholic Schools Week Jan. 27 through February 2. During this week and throughout the school year, the students are taught to give to those in need spiritually, mentally, socially, and physically.
This year the students held a food drive and collected much-needed items for our local food pantry.  It was heart-warming to see the students' faces light up when they brought their items to the table of donations!  As they were receiving the gift of God's love in their hearts, not only are they smiling, but they are helping their neighbors in need smile as well.  They were successful in bringing many items for our local families in need, and we are very proud of their efforts!