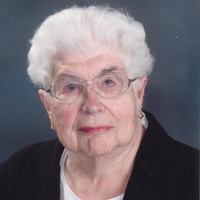 Mary Louise Richards, 94, Greensburg, died on Sunday, February 11, 2018 at the Decatur County Memorial Hospital in Greensburg.
Born, August 10, 1923 in Clarksburg, Indiana, she was the daughter of Alex and Alma (Hellmich) Wenning.
Mary Louise was a 1941 graduate of Clarksburg High School. She worked for over 20 years at the North Decatur High School cafeteria.  She was a member of the St. Mary's Catholic Church, the Daughters of Isabella, and the Adams Fire Department Ladies Auxiliary.
She was married to Paul E. Richards on January 2, 1946 and he preceded her in death on October 21, 2004.
She is survived by; five sons, David (Jill) Richards, Greensburg, Phil (Debbie) Richards, Greensburg, Michael Richards, St. Paul, Kevin (Marcia) Richards, Greensburg, Scott (Mandy) Richards, Greensburg; five daughters, Eileen (Gale) Palmer, North Carolina, Linda Fairman, Carmel, Karen (Mark) Holmes, Anderson, Ruth (Roger) Wenning, Greensburg, Marilyn (Eddie) Sasser, Liberty; three sisters, Sue Koors, Greensburg, Marjorie Geis, Greensburg, Norma Schebler, Batesville; twenty five grandchildren and 21 great grandchildren.
She was preceded in death by her parents, husband; 1 son, Roger Anthony Richards; four sisters, Mildred Berkemeier, Thelma Wenning, Jane Koors, Sara Wenning.
Family and friends will gather at 3:30 p.m. on Wednesday at the funeral home to pray the rosary.   Visitation will follow until 8:00 p.m. at the Porter-Oliger-Pearson Funeral Home in Greensburg.   The family will also receive friends from 9:00 a.m. until the funeral mass at 10:00 a.m. on Thursday, February 15, 2018 at the St. Mary's Catholic Church in Greensburg with Rev. John Meyer officiating.
Interment will be held in the St. Mary's Catholic Cemetery in Greensburg.
Memorials may be made to the St. Mary's Catholic Church Building Fund or to the St. Mary's School Fund.
Online condolences can be made to the family at www.popfuneralhome.com