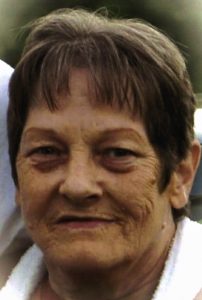 Linda Mae Hokey, age 72, of Brookville, Indiana passed away peacefully Friday, February 9, 2018 at Reid Health in Richmond, Indiana surrounded by her loved ones.
Born March 23, 1945 in Laurel, Indiana she was the daughter of the late Chester S. & Opal I. (Tussey) Himes. She was united in marriage to Louis V. Hokey Sr., and he preceded her in death in 1992.
Linda was retired from Sperry Rubber & Plastics in Brookville where she had worked for many years. In her leisure time she enjoyed dancing, rock & roll, playing cards, and dice. She was a lifelong Elvis fan. Linda loved to laugh and will be remembered as the life of the party. She had the ability to bring a smile to anyone with her quick wit and sense of humor like no other. In her final hours, Linda slept comfortably as her family surrounded her laughing, crying and sharing funny stories about vacations they took and the outrageous things she would say. She transitioned quietly listening to Elvis music. She did it her way!
She is survived by a daughter, Carol L. Murrell Mahaney of Richmond, Indiana, her son Louis V. Hokey Jr. of Laurel, Indiana; six grandchildren, Brandon Combs; her first born grandson and best friend whom she adored; Shawn & Daryl Murrell, Tasha, David, and Kayla Hokey; 12 great-grandchildren, Brantley and Summer Combs, Madilyn & Preston Jones, Madison Terry, Mason & Elliot Hokey, Trenton Thompson, Triniti, Tyler and Tori Gabbard, Maci Durstock; four siblings, George Himes and David 'Davey' Himes of Brookville, Indiana, Barbara Milbourne of Dearborn Heights, Michigan, and Donna Foster of Brookville, Indiana.
In addition to her parents and husband, she was preceded in death by her youngest son Billy Hokey who died in 1988; three sisters, Doris Burch, Betty Barber, Jenny Fay Himes; and a brother; Kenneth Himes.
Family & friends may visit from 4 until 7:00 P.M. on Tuesday, February 13, 2018 at Phillips & Meyers Funeral Home, 1025 Franklin Avenue, Brookville.
Rev. Wayne Ison will officiate the Funeral Services on Wednesday, February 14, 2018, 11:00 A.M., at Phillips & Meyers Funeral Home, 1025 Franklin Avenue, Brookville. Burial will then follow in Laurel North Cemetery in Laurel, Indiana. A memorial dinner will follow at the Laurel Community Center.
Phillips & Meyers Funeral Home is honored to serve the family of Linda Hokey, to sign the online guest book or send a personal condolence please visit www.phillipsandmeyers.com .