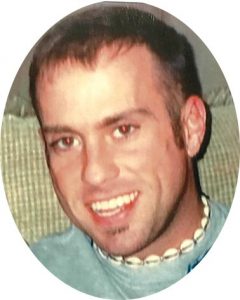 Michael Ward Landis, 48 of Cincinnati formally of San Diego, CA passed away Saturday January 13, 2018 at his home. Michael was born in Albuquerque, NM  the son of Ward Landis and Megan (Long) Brown. Michael worked at Lens Crafters as a Licensed Optician for 20 years.
He especially enjoyed spending time with his family, friends and his dogs, Aurora and Luna. He loved old cars, music, traveling and volunteering. He loved going to Reds Games, The Cincinnati Zoo and the Krohn Conservatory.
Michael is survived by his step-father Roger Mueller of Aurora; Sisters: Kelly Seevers (Melvin King) of Dillsboro; Stacy Hudnall of Crittenden, KY; Tracy Davis of Carrollton, KY;
Nieces: Taylor and Faith Smith. Nephew: Hunter Davis.  Special friends: Mark Netherly, Jennifer Hosler, Cindy Siebentritt Beeler and Steven DeRienzo.  He was preceded in death by his parents.
Funeral services will be at Hope Baptist Church February 3, 2018 at 1 p.m. Visitation will be 12-1 p.m. also at the church.   Memorials can be made to Hope Baptist Church. Laws-Carr-Moore Funeral Home entrusted with arrangements, Box 243 Milan In 47031 (812)654-2141.  Go to www. lawscarrmoore.com to leave an online condolence message for the family.