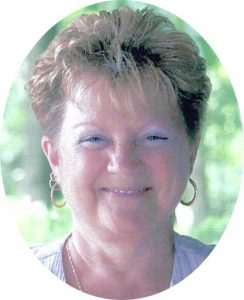 Linda C. Rogers, 64 of Lawrenceburg passed away January 12, 2018 at Dearborn County Hospital in Lawrenceburg. Linda was born March 1, 1953 in Whidbey, Washington the daughter of Robert and Elizabeth (Grathwohl) Livingston.  She married Larry Rogers in 1970 and he preceded her  in death in 2002.  Linda worked for Fernald for over 30 years. She was a member of the St. Charles Catholic Church. She enjoyed her family, and watching her grandchildren's basketball and soccer games.  She loved camping, swimming and going to the state of Florida.
Linda is survived by son: Chris (Angel) Rogers of Dillsboro; daughter: Chastity (Mike) Fogel of Dillsboro; Mother: Betty R. Livingston of Aurora; brother: Rob Livingston of Metamora; sisters: Debbie Jayne of Aurora, Teresa Standish of Washington; Julie Louden of Rising Sun, Connie Hagemeyer of Washington. Grandchildren: Kristen Rogers, Bre Fogle, Kayla Rogers, Ethan Fogle, CJ Rogers; Great-Grandchild: Hunter Rogers.  She was preceded in death by father, husband, grandchild: Bryston Fogle.
Funeral mass will be 11AM Tuesday January 16, 2018 at St. Charles Catholic Church in Milan with Father Frank Eckstein officiating.  Burial will follow in Forest Hill Cemetery in Moores Hill.  Visitation will also be Tuesday 9-10:30am at the funeral home.  Memorials may be made to the Family.  Laws-Carr-Moore Funeral Home entrusted with arrangements, 707 South Main Street, Box 243 Milan In 47031 (812)654-2141.  Go to www. lawscarrmoore.com to leave an online condolence message for the family.