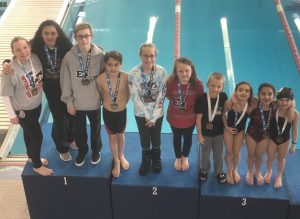 2018 Chasestrong Challenge swim invitational held at Indian Creek High School in Trafalgar, IN on Saturday January 6. 10 teams competed from local areas to Indianapolis area. The East Central Swim Team team had 26 swimmers competing. Of those 26, 11 finish in the top 8 in their age group.
This invitational takes the top 8 fastest times in 5 events. "Pentathlon" award for each age group. All swimmers competing in this challenge must swim all 5 events. Butterfly, backstroke, Breaststroke, freestyle and an IM (individual medley)therefore places were based on total time in all 5 events.
Here are their places and age group:  Ray Krider (13 and up) 7th place; Reagan Reaney (9-10) 1st place; Tara Hall (11-12) 5th place; Kaden Cummins (11-12) 4th place; Santiago Schutte (9-10) 2nd place; Aubrey Poppen (9-10) 7th place; Riley Reaney (9-10) 5th place; Nash King (9-10) 4th place; Alejandra Schutte (8 and under) 4th; Sierra Hall (8 and under) 5th; Cora Miller (8 and under) 8th.
Also Santiago Schutte made a huge accomplishment on Saturday, he made two state cut times (50 freestyle and the 50 Breaststroke) which he will be competing in the 2018 Indiana Short Course State Swim meet in Indianapolis.
Again this is a big deal for swimmers. You are swimming with the best swimmers  in Indiana at 9-10 years old).
Courtesy of Marisol Schutte.