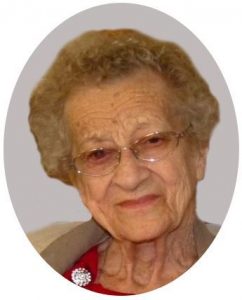 Mary Ann Merkel, age 92 of Batesville, died Tuesday, January 9, 2018 at St. Andrew's Health Campus.  Born August 8, 1925 in Cincinnati, she is the daughter of Marie (Nee: Strasser) and William Stecher.  She married Martin Merkel May 14, 1949 in Cincinnati and he preceded her in death October 26, 2006.  Mary Ann was a cafeteria worker for the Batesville Community School Corporation before retiring.  She was a member of Holy Family Church and the Oldenburg Knights of St. John Ladies Auxiliary.
She dearly loved her grandchildren.  A large bowl of candy was always out for them to help themselves………..depending on who you asked.  Apparently Mary Ann had a sweet tooth as well.  An excellent baker, her oatmeal chocolate chip cookies, brownies, angel food cake and pies were family favorites.  For years she would work the crossword and Jumble puzzles in the newspaper as well as being an avid reader, checking out three or four books a week from the library. Don't miss T.V. shows included Jeopardy, Wheel of Fortune and The Lawrence Welk Show.
Mary Ann is survived by her daughters Ruth (Alan) Roell of Lebanon, Indiana, Margie (Rob) Lipsey of Brownsburg, Indiana; sons Marty (Connie) Merkel of Indianapolis, Larry (Teresa) Merkel of Batesville, Joe Merkel of Indianapolis, Jim Merkel of Batesville, Tony Merkel of Avon, Indiana; brother William Stecher of Cincinnati; twelve grandchildren and nine great grandchildren.  In addition to her husband and parents, she is also preceded in death by her sister Laverne Stecher.
Visitation is Friday, January 12th, from 9 – 11 a.m. at Holy Family Church.  Funeral services follow at 11 a.m. with Rev. Carl Langenderfer O.F.M. officiating.  Burial will follow in the church cemetery.  The family requests memorials to Phi Beta Psi Sorority Cancer Research or St. Anthony's Haiti Fund in care of Weigel Funeral Home, P.O. Box 36, Batesville, Indiana 47006.  Weigel Funeral Home is in charge of arrangements.