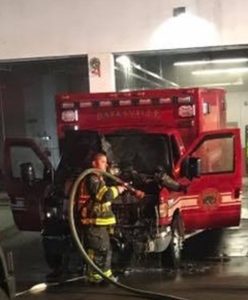 Batesville, In. — A Batesville Fire Department ambulance was heavily damaged and four people were injured by a fire early Friday morning at the fire station.
Just after midnight the emergency vehicle caught fire in the garage bay, causing the sprinkler system to activate. Firefighters quickly pulled the ambulance out of the building and the blaze was quickly extinguished.
There was slight damage to the door and soot that will require clean up. Four fire department workers were treated and released for smoke inhalation. No damage estimate is available for the ambulance. The cause is under investigation.
.