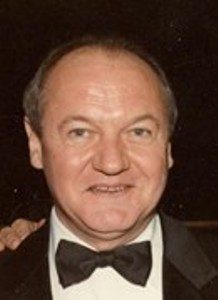 Batesville, In. — Batesville native Robert D. Romweber passed away Thursday, November 30th, 2017, at St. John's Medical Center in Jackson, WY. Bob was born May 18th, 1939 to Robert and Helen Romweber of Batesville, IN. He spent his childhood in Batesville, and in Harbor Springs, MI until he went to St. Joseph's Preparatory School in Bardstown, KY. Bob attended Purdue University after which he entered the Army where he served at a language school in California and later in Germany. After the Army, Bob assumed a role with his family's business, Romweber Furniture, makers of classic oak furniture. In 1971 he moved to New York City where he resided for 25 years as a representative of the Romweber Furniture Company.
In 1996 Bob moved to Jackson, WY where he spent that last 22 years. He worked in Jackson as a Master Hotel Supplier until 2015.  He was very involved in Our Lady of the Mountains Catholic Church where he was a 4th Degree Knight of Columbus. Bob was a Pro-Life advocate and a member of the Board of Directors for the Turning Point Pregnancy Resource Center. He enjoyed entertaining his wide circle of friends and family—he was a master chef and a member of the James Beard Society.
Bob is preceded in death by his parents Robert and Helen Romweber, his sister Susan Romweber and Godchildren Julie Romweber and Hank Muehlenkamp.  He is survived by his brother Pete Romweber (Connie) and sisters Nancy Grote (Buzz), Posey Knecht, Donna Ludwig and numerous nieces and nephews.
A rosary will be said at 8:30 a.m. Friday, December 15 at Our Lady of the Mountains Catholic Church in Jackson followed by a Mass of Christian Burial at 10:00 a.m.  Bob will be buried in Batesville, Indiana at St. Louis Cemetery at 11:00 a.m. on Friday, December 22. Memorial donations can be made to Turning Point Pregnancy Resource Center P.O. Box 436, Jackson, WY.