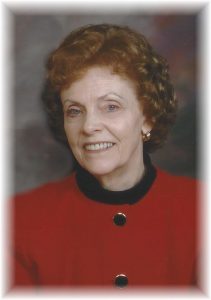 Elaine Ruby Bergman, age 84 of Batesville, Indiana passed away Monday, December 11, 2017 at Ripley Crossing.  The daughter of Irvin and Ruby (Nickell) Berg was born on April 18, 1933 in Richmond, Indiana.  She was a 1951 graduate of Sunman High School.
Elaine and her husband, Raymond enjoyed life living on their farm. In 2006, they moved into the Chateau in Batesville.  Together, they owned and operated Bergman's Store in Pierceville, IN for many years.  She also worked as the Postmaster in Pierceville.  Elaine was a member of the St. Peters United Church of Christ (Finks) in Osgood, IN for more than 55 years.  She read her Bible daily and had a strong faith in God.
She is survived by her daughters, Renee (Michael) Ramig of Milan, IN and Raynell (David) Smith of St. Mary's, IN; grandchildren Joshua (Kristy) Ludeker and Danny (Erica) Smith; great grandchildren Olivia, Aiden, Alexis Ludeker, Avery Smith and Azelea Phillips; along with her sister Barbara (Ken) Kruse of Batesville.
In addition to her parents she was preceded in death by her husband, Raymond Bergman in 2008, grandchild Jeremiah Ludeker and sister, Betty Wiedeman.
Visitation will be Saturday, December 16, 2017 from 11:00am until time of funeral services at 1:00pm all at St. Peters United Church of Christ (Finks) in Osgood. Rev. Sandy Gruell officiating.  Burial will follow in St. Peters UCC Cemetery.
Memorials may be given to St. Peters UCC c/o the funeral home. Online condolences www.meyersfuneralhomes.com