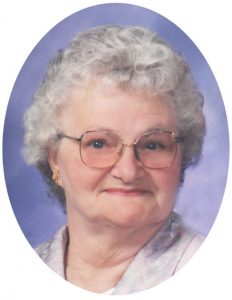 Elvira F. Timke, age 89 of Batesville, died Sunday, December 10, 2017 at Christ Hospital in Cincinnati.  Born December 10, 1928 in Franklin County Indiana, she is the daughter of Mary (Nee: Risselman) and Alois Pulskamp.  She married Clifford Timke July 8, 1950 at St. Mary's of the Rock Church in St. Mary's, Indiana and he preceded her in death August 9, 2002.  She was a homemaker and a member of St. Louis Church and the Batesville V.F.W. Ladies Auxiliary.
Elvira enjoyed many interests.  In addition to following the Reds as well as I.U. and Purdue basketball, she also crocheted and worked the daily crossword puzzle.  She loved cards too.  For years the kids remember her playing solitaire on a board which was just big enough to fit the seven rows of cards.  Several years back she went digital when they bought her an iPad to play on.  Elvira also played 500, Solo and Euchre.  And while she made the best apple pie, the memory that stands out the most to her family is she was the anchor of the family.  If you needed guidance or a second opinion, you went to her.  She offered sound advice that was unbiased and non-judgmental.
She is survived by her daughters Joan (Benny) Thompson of Shelbyville, Indiana, Jean (Bill) Linkel of Batesville, Carol Livers of Independence, Kentucky, Patricia (Patrick) Leffingwell of Brookville, Indiana, Joyce (Rick) Gauck of Greensburg, Indiana, Mary (John) Vogelsang of Batesville; sons James Timke of San Diego, California, Mark (Julie) Timke of Indianapolis, Indiana, David (Cathleen) Timke of Cincinnati, Ohio; sister Shirley Laker of Batesville; 15 grandchildren and 11 great grandchildren.  In addition to her husband and parents, she is also preceded in death by brothers Willard and Harold Pulskamp.
Visitation is Wednesday, December 13th, from 4 – 7 p.m. at the Weigel Funeral Home, with a rosary service at 4 p.m.  Funeral services are noon Thursday, December 14th, at St. Louis Church with Rev. Stan Pondo officiating.  Burial will follow in the church cemetery.  The family requests memorials to the Batesville V.F.W. Post #3183 or Margaret Mary Health Foundation Hospice.