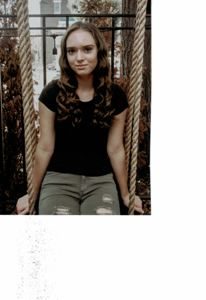 Brookville, In. — Franklin County high School student Lauren Kiel has been introduced as the Franklin County Community Foundation 2018 Lilly Endowment Community Scholar.
She will receive full tuition to an Indiana accredited public or private nonprofit college or university of her choice and a $900 yearly stipend for required books and equipment.  Semi-finalists Autumn McDaniel, a Franklin County High School student who is the daughter of Chris and Kendra McDaniel, and Trevor Murray, a Franklin County High School student, who is the son of Joshua and Brandy Murray, will receive $500 scholarships from the FCCF operational fund.
Lauren Keil of Brookville is the daughter of Brian and Melissa Klei.  A Franklin County High School student, Lauren is the current President and three-year member of Champions Together as well as a member of the National Honor Society, Unified Track Team, MCATZ and Bleacher Bums.  She is also on the Tennis Team, a member of Spanish Club and is a four-year member and Captain of the Dance Catz.  She volunteers for Special Olympics, the Klemme's Corner UCC Fall Festival and the Walnut Hills Soup Kitchen.
Lauren intends to pursue a career in Orthodontics.  "I have been fascinated with the dental world since I was a freshman in high school when I shadowed at a practice," she said.  "It was during my visit that I became very enthusiastic about the career of an orthodontist.  I want my career to be something I can engross myself in yet enjoy at the same time, and I think this career path is the perfect way to balance these."
The three semi-finalists were selected from 36 applications submitted from accredited high school seniors who are residents of Franklin County.  A volunteer scholarship selection committee interviewed the students. Committee members selected are perceived as well respected and objective. Members of the scholarship selection committee are not members of the Franklin County Community Foundation Board of Directors or staff.