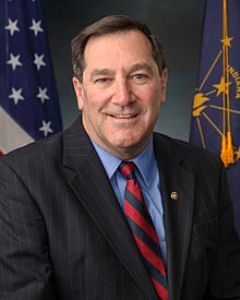 Batesville, In. — Senior U.S. senator from Indiana, Democrat Joe Donnelly recently celebrated the passage of two measures to help Indiana veterans.
First, the Jacob Sexton Military Suicide Prevention Act requires service members to receive a mental health exam every year.  The exam is a way to allow service members to talk to a counselor without the stigma normally associated with asking for help. The measure is named for Indiana National Guardsman Jacob Sexton who took his life while on leave in 2009.
Senator Donnelly said, "The Jacob Sexton Military Suicide Prevention Act has been implemented across our Armed Forces this year, including by the National Guard, and I am hopeful it will make a difference and help end the scourge of military suicide. Mental fitness, like physical fitness, is a critical component of military readiness. This law, for the first time, requires an annual mental health assessment for all service members, including members of the Guard and Reserves.  The goal is to better identify those struggling with mental health issues and ensure they receive the help they need before it's too late."
Next, the VA Prescription Data Accountability Act ties the VA drug prescribing system into the Indiana prescription drug monitoring system- INSPECT. This ties the two systems together in order to detect patients attempting to access additional drugs from alternate sources.
Senator Donnelly said, "Coordination between the VA and our prescription drug monitoring programs is key to addressing opioid abuse in Indiana and across the country. The VA is a major prescriber of opioids and prescription drugs and must be a full partner in our all-hands-on-deck effort to combat this epidemic. This bipartisan legislation will ensure that VA hospitals and clinics are in line with their non-VA counterparts and allow VA facilities to fully partner with Indiana's INSPECT and similar programs across the country to monitor opioid prescribing practices."