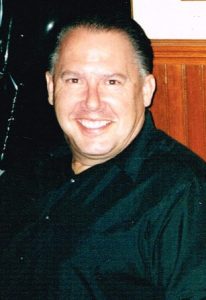 Randall Edward Cyman (of Greensburg, Indiana) was called Home to the Lord on November 28th, 2017, during a pheasant hunting excursion with his beloved bird dog "Millie."  Randy was born December 15th, 1951 in South Bend, Indiana, to Richard L. and Geraldine Jaronik Cyman.  He graduated in 1970 from Pendleton Heights High School, where he was a standout athlete lettering in football, baseball, and wrestling.  He continued his education at Tampa University, attending on athletic scholarships for wrestling and football.  He completed his BA degree through Anderson University, then went on to get his Masters of Business at Ball State University.  Randy had several passions including hunting, fishing, and golfing; he loved sharing these special times with dear friends.  He had an appreciation of history, which led to the ownership of HighPoint Orchard, established on Historic Pleak's Hill in 2005.
Randy spent 30+ years working for General Motors/Delco Remy/Delphi.  He was promoted through the ranks into Management.  He was instrumental in serving multiple capacities including Human Resource Director, Labor Relations, Sales/Engineering Manager, Manufacturing Supervisor, Executive Director of the Dammam Saudi Arabia AC Delco Maintenance Free Battery Plant.  Randy also spent the last five years of his career serving locally as the Human Resource Director for One Solution Logistics.
Randy received many awards throughout his lifetime. He received the General Motors Life Saving Award, and the Don Almquist Award.  He was honored for his efforts in building the Arabian Wrestling Club at Pendleton Heights High School.
Randy was a dedicated husband, father, and papaw.  He is survived by his wife, Karen Gross Cyman, whom he married in 2001; son, Edward (Abigail) Cyman, of Frisco, Texas; daughter, Erica Cyman, of Markleville, Indiana; grandchildren Tory Vire, Gavin Swinford, Brock and Bryce Cyman; and several special cousins.   He was preceded in death by his parents, brother, Richard Cyman Jr.; and son, Elliot Randall Cyman.
A visitation is scheduled for Tuesday, December 5th, 2017 at the HighPoint Orchard Ole Mill Barn, 3321 N. Old US Hwy 421, Greensburg, IN 47240, from 3 to 7 p.m., with the Memorial Service immediately following.  Porter-Oliger-Pearson Funeral Home has been entrusted with the arrangements.
Online condolences can be made to the family at www.popfuneralhome.com